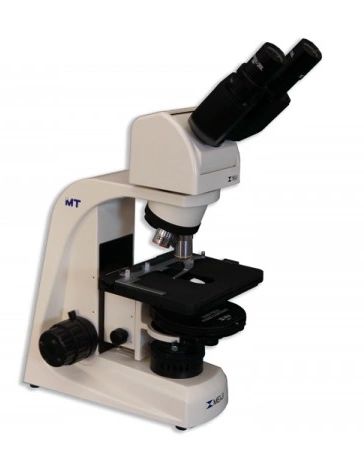 Meiji MT4210EL
The MT4210EL Microscopes features include:
Computer Aided Design
All New Infinity Corrected Optics
Ergonomically positioned controls
Comfortable Siedentopf viewing heads
Ergonomic Binocular Head Available
30W Halogen for Phase Contrast and Brightfield Models and LED Illumination for Brightfield Models
Brightfield, darkfield and phase contrast observation modes available
VIEWING HEADS
Model MA815/05 is the Siedentopf-type binocular head and Model MA816/05 is the trinocular head for camera integration. Each head has the eyetubes inclined at 30 ° with the left eyetube having graduated diopter settings. The interpupillary distance is adjustable between 53mm - 75mm. An 80/20 beamsplitter for the trinocular tube can be engaged for photo work.The optional MA957/05, Ergonomic Binocular Viewing Head, has the inclination adjustable from 10 to 50 degrees to fit users of different heights. The Ergonomic Trinocular model comes with the MA958, photo/video attachment with sliding 80/20 beam-splitter (Included in MT4300ED).
EYEPIECES
10X Widefield High Eyepoint eyepieces F.N.20 are standard, and 15X and 20X eyepieces are available as an option. A Widefield High Eyepoint 10X focusable eyepiece that accepts 21mm reticules is also available.
OBJECTIVE CHANGER
Quintuple nosepiece provides effortless objective changes with smooth-operating, ball bearing mounted.
OBJECTIVES
Meiji Techno America offers an assortment of Planachromat Infinity Corrected (ICOS) objectives for Brightfield, Darkfield and Phase Contrast observation modes.
STAGE
Ceramic coated standard right-handed or optional left-handed controls, flat top stage 171mm x 115mm and travels 78mm(X) x 52mm(Y). Ergonomically positioned coaxial drop down controls. Available with motorized focus and stage controls.
CONDENSER
New design centerable Abbe 1.25 N.A. Condenser with built-in iris diaphragm in dovetail mount.
ILLUMINATION
Powerful white LED illumination provides enhanced image quality and brightness for the observation of specimens and photomicroscopy.
Reviews