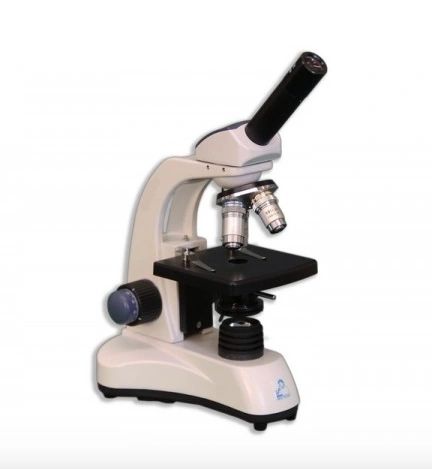 Meiji MT-11
The MT-30 Series Compound Microscopes have crisp, erect images over a wide field of view.
These student microscopes are built to last, year after year. Just perfect for grade schools and high schools!

The MT-30 Series features include:
Ergonomic Hand Grip for portability and ease of storage
Low positioned Ergonomic Coaxial Focus Control
Abbe condenser, N.A. 1.25 with iris diaphragm and lever for height adjustability
Revolving Quadruple reverse nosepiece on ball bearings
Achromatic DIN Semi Plan Standard 4x, 10X, 40X, 100x objectives
Anti-Fungus treated optical parts for mold prevention
Mechanical stage with lock safety stop to prevent slide glass breakage
Digital models available with built in 1.3MP 1/2 chip CMOS USB2 Camera
LED variable intensity illumination generating even illumination and low electrical consumption
Rechargeable batteries, cordlessfeature enables use of the instrument without an outlet.
2 year Warranty
All optical parts are anti-fungus treated.

VIEWING HEAD: Binocular 30° inclined tube
EYEPIECES: Paired DIN WF 10x/18mm
OBJECTIVES: All models are equipped with achromatic corrected 4x/0.13, 10x/0.25, S40x/0.65 andS100x/1.25 objectives.

NOSEPIECE: Revolving quadruple reversed nosepiece on ball-bearings.
STAGE: 130 mm x 130 mm stage with integrated mechanical stage.
CONDENSER: Abbe condenser, N.A. 1.25 with iris diaphragm and lever for height adjustability.
FOCUSING ADJUSTMENT: Coaxial coarse and 200 µm fine adjustments, 2 µm precision. Friction adjustment.
ILLUMINATION: 1 W intensity adjustable LED illumination with internal power supply / charger and 3 rechargeable NiMH AA batteries.
Reviews