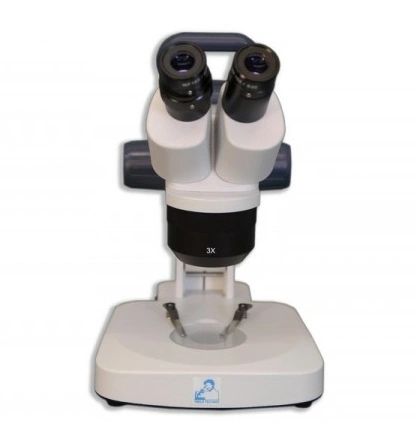 Meiji Em-Series 22/23
The EM-20 Series Stereo Microscopes have crisp, erect images over a wide field of view.
Featuring incident and transmitted illumination, these student microscopes are built to last, year after year. Just perfect for grade schools and high schools!
This series is great for observing any biological or physical science specimens, coins, etc., virtually any object because the stand allows the optics to be raised high enough to fit virtually any specimen.

VIEWING HEADS: Binocular 45° inclined tubes, One ± 5 diopter adjustment, Interpupillary distance adjustable between 55 mm and 75 mm

EYEPIECES: Paired WF 10x/20mm eyepieces
OBJECTIVES: Revolving nosepiece with Triple 1x/2x/3x and 1x/2x/4x magnification objective with field of views of 20/10/6.7 mm and 20/10/5 mm.
Magnifications from 10x up to 20x, 30x and 40x with working distance 60 mm.

All optical parts are anti-fungus treated.
STAND: Rack and pinion design. Ergonomically designed base with 2 object clamps. Alloy metal cast, hardened off-white coated. Built-in rechargeable 1.800 mAh battery and external power supply.
FOCUSING ADJUSTMENT: Coarse adjustment with tension control.
ILLUMINATION: The 1 W transmitted and incident LED illuminators can be used simultaneously.
Both light intensities can be adjusted separately. Rechargeable batteries enable portability.
Reviews