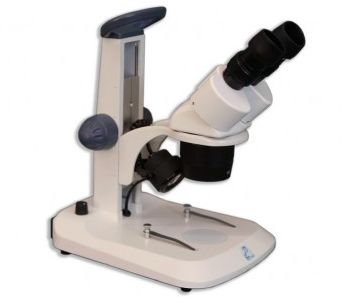 MEIJI EM-30/31
Meiji Techno America's EM-30 Series meets the demand for a complete Advanced-level Binocular Dual turret style stereo microscopes with a built in

1x, 3x

objectives giving the user

10X, 30X

magnification with the standard 10X eyepiece. Equipped with

RECHARGEABLE

LED illlumination in a stable large footprint design and a comfortable carrying grip for ease of portability. Binocular head is inclined at 45° tubes, One ± 5 diopter adjustment, Interpupillary distance adjustable between 55 mm and 75 mm. The EM-30 Binocular Turret Stereo Microscopes have crisp, erect images over a wide field of view. The stand is made out of metal cast alloy and has a rack and pinion design with coarse adjustment and tension control.
Equipped with a Revolving nosepiece with Dual 1x/3x (EM-30) magnification objective with large field of view. Field of views 20 mm/6.6 mm, Working distance 100 mm
Featuring incident and transmitted LED illumination, these student microscopes are built to last, year after year. Just perfect for grade schools and high schools!
This series is a larger frame than the EM-20 models, great for observing any biological or physical science specimens, plants, insects etc., virtually any object because the stand allows the optics to be raised high enough to fit virtually any educational specimen.
Reviews