Premo Dual Head Stereo Microscope DH0002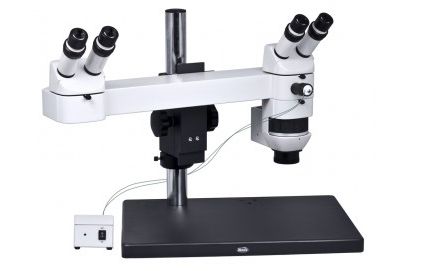 Premo Dual Head Stereo Microscope DH0002
High grade optics and precise mechanical assembly is perfect for training new employees or students.

495mm of distance from instructor's eyepieces to students eyepieces. The system offers you plenty of room to work under the scope.

A CMO stereo microscopy system with optical clarity and instantaneous understanding with a side-by-side conversation waiting to commence.
Common main objective (CMO) Infinity optical system
Binocular heads, 45º inclined (primary and secondary unit)
Widefield eyepieces WF10X/23mm (primary and secondary unit)
Dual observation optical bridge with pointer on primary unit
Build-in illuminated pointer: Allows instructor to pin point any areas to student.
Standard 1X Achromatic objective
5.2:1 Zoom ratio
Objective magnification range: 0.6X-3.1X
Standard total magnification: 6X-31X
Standard max. Field Diameter 38.3mm
89mm working distance
Special large working area stand
Coarse focusing system with tension adjustment
Rack and Pinion focus assembly
Perform various tasks on the 508x356mm large heavy duty base
Reviews